Ulanet thermostats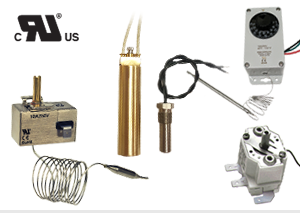 Ulanet Thermostats are devices that turn on & off an electrical circuit based on temperature. There are many types of thermostats which are unique to their application. Each thermostat posseses unique characteristics that sets them apart from the rest. These characteristics enable system designers to utilize the basic principal of a thermostat in many diverse settings. Examples of applications for such devices are, but not limited to HVAC, Process Heating, Food Service, Laboratory Tank Heating, Industrial System Control.


thermostat General Information
A thermostat monitors thermal properties of a mechanical system and turns on or cuts off power based on its set point. These devices are used in a vast array of applications such as thermal limits in ovens, boilers, tank heaters, environmental controls etc.



Cartridge class - (FM Series)
A thermosensitive bimetal element, in optimum thermal contact with the cartridge housing, actuates a pair of switch members to open and close its' contacts in response to temperature change. The bimetal is electrically insulated from the switch blades.



Industrial and Commerical class
Used in industrial and commerical applications, you will find these thermostats in applications such as medical equipment, labratory environmental controls, commerical food processing equipment, and heat processing systems.



Hermetically sealed class
Offers exact temperature control in tough industrial environments. Our full line, which also includes miniature thermostats are engineered to respond rapidly to changing conditions. These units feature bi-metal construction and are available in a wide range of sizes.



Bulb & Capillary class
Provide system designers the freedom to place system controls in remote locations away from the heat source while still mechanically sensing thermal levels.This class of thermostat relies on a special sealed blend of thermal material within the bulb & capillary assembly to sense heat.