Hermetically Sealed Thermostats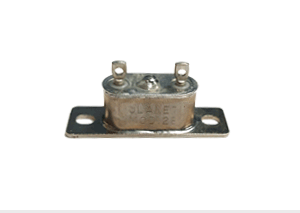 Hermetically Sealed Thermostats
provide precision protection and control in the most demanding applications. Their rugged construction, durability, and long life make them suitable for meeting the most stringent requirements of military & commercial applications.
Rating: 100 Watts, 115-230VAC

Factory Calibration Range: 400°F Max

Hermetically sealed Thermostats
Hermetically sealed thermostats from Ulanet offer exact temperature control in tough industrial environments. Our full line of thermostats, including minatures are engineered to respond rapidly to changing conditions. These units offer bi-metal construction and are available in a wide range of sizes and mounting options.
Ulanet electric thermostats offer unique features not found in our competitor's units. Our thermostats are 100% hermetically sealed and their adjustment / calibration screw is solder-sealed. There are alternative methods to sealing the adjustment/calibration screw enabling the user to self calibrate on-site. Working closely with each customer's specifications allows us to custom design a thermostat that is the most appropriate for your application.
Utilizing a "slow make/slow break" action allows for temperature differentials that can go as low as 1-2°F. These units offer temperature ranges of up to 400°F and are available with normally closed or normally open contacts. Their rugged construction, durability, and long life make them suitable for meeting the stringent requirements of military and commercial applications such as U.S. Navy submarine control panels, production of silicon microchips, particle accelerator magnets, and the Bradley armored personnel carrier.

Requesting a quote
These thermostats are made in several adjustable ranges for maximum sensitivity.

State approximate working temperature.
Reference a specified model number below.
Specify the application use.
Specify the working environment if possible.
Specify mounting requirements.
---
Hermetically Sealed thermostats
We offer a range of hermetically sealed thermostats that all function under the same scientific principals however each thermostat has unique functions and features. Please use the list below to better educate yourself on the options you have available to you.
Note: If you require additional information please contact us. Click Here To Contact
Model #
#Classification
Temp Ranges
Electrical Rating
Mounting
Adjustable
Normally Closed / Open
Drawing
#28
#28NP
Rapid Surface Mount
Up to 400°F Max

115 VAC / 28VDC 5A
Rectangular
Copper base plate
No - Factory Sealed
(Glyptal or Solder)
Normally Closed or Open
*.DWG
#219
#219NP
Rapid Surface Mount
Up to 400°F Max

115 VAC / 28VDC 5A
Gold plated right angle bracket
No - Factory Sealed
(Glyptal or Solder)
Normally Closed or Open
*.DWG
#237
#237NP
Rapid Surface Mount
Up to 400°F Max

115 VAC / 28VDC 5A
Circular
Copper base plate.
Yes w/
Uninsulated Screw
Normally Closed or Open
*.DWG
#374
Tubular Immersion Probe
Up to 400°F Max

115 VAC / 28VDC 5A
1/8" NPT SST'L Fitting
Yes w/
Uninsulated Screw
Normally Closed or Open
*.DWG
#440
Tubular Immersion Probe
Up to 400°F Max

115 VAC / 28VDC 5A
1/8" NPT or 7/16"-20 UNF Fitting
Yes w/
Uninsulated Screw
Normally Closed Only
*.DWG
#DR
#DR-SS
Minature Capsule
Up to 400°F Max

115 VAC / 28VDC 3A
DR: 1A (AC)
DR-SS: 1.5A (AC)
M, OO, or V Mounting Brackets
Yes w/
Uninsulated Screw
Normally Closed or Open
Not Available
#PD-S
#PD-SS
Minature Capsule
Up to 400°F Max

115 VAC / 28VDC 3A
PD-S: 1A (AC)
PD-SS: 1.5A (AC)
M, OO, or V Mounting Brackets
Yes w/
Uninsulated Screw
Normally Closed or Open
*.DWG
#BW
#BW-SS
Minature Capsule
Up to 400°F Max

115 VAC / 28VDC 3A
BW: 1A (AC)
BW-SS: 1.5A (AC)
M, OO, or V Mounting Brackets
Yes w/
Insulated Screw
Normally Closed or Open
Not Available
#BA
Minature Capsule
Up to 400°F Max

AC: 115V 1A
DC: 28V 3A
M, OO, or V Mounting Brackets
Yes w/
Uninsulated Screw
Normally Closed or Open
*.DWG
#WP
Minature Capsule
Up to 400°F Max

28 VCD .75A
M, OO, or V Mounting Brackets
Yes w/
Uninsulated Screw
Normally Closed or Open
Not Available
#SE
Miniature Immersion
Up to 400°F Max

115 VAC 1A
28VDC 3A
1/4" NPT Threads
1/8" NPT Threads
No
Normally Closed or Open
*.DWG