Flange, Screw Plug, & Over Side immersion Heaters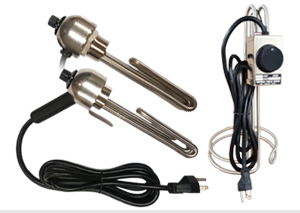 Heet-O-matic® Immersion Heaters
Provides an easy solution to heating laboratory liquids, and sterilization methods. Provided with threaded mounting options or over the side hangers.
Rating:
115 or 230V.A.C. (500w, 1100w, or 1500w)
Temp Range: 120°F-190°F

Additional Info:
Differential: ± 1°F in a circulated bath.


Heet-O-matic® Over Side immersion heaters
Our over the side immersion heaters are designed to provide an easy solution for those seeking a controlled heat source for quick sterilization in laboratories, as well as a control method for general lab liquids. We offer some with threaded collars for threaded installation while others simply hang over the edge.
Heet-O-Matic® FEATURES
Probe, heater element sheath, and switch cover material: Polished Type 316 stainless steel.

Sensitive thermal probe protected against mechanical damage.

"Pilot light" indicator shows "ON" when unit is heating.

Supplied with a standard length 6' 3-wire cord set.

Rating 500W. or 1100W. or 1500W. at 115 or 230 V.A.C.

Differential: ± 1°F in a circulated bath.
Heet-O-Matic "Over Side" heater instructions click here to download
MET Listed (MET Listing: E212620)
HeetGrid® Screw Plug & Flange Immersion Heaters
For direct heating of compatible liquids, screw plug immersion heaters are the ideal solution. Ulanet offers high quality heaters in standard and custom manufactured units to meet the exact specifications of any application.
Heetgrid® Screw Plug & Flange Heater Features
Threaded installation (NPT threads 1" up to 2.5")
3-phase thermostats enable ratings up to 20 KW

"Hairpin" heaters are possible that are mounted through the wall with a 5/8" SST'L comp' fitting

Optional general purpose or explosion-proof terminal housings for safety regulation purposes
Reccomended control: FM Cartridge Thermostat

Immersion Heater Models:
305, 305MP, 306, & 560
(listed below)
Are certified by
American Organization (MET)
for both the U.S. and Canadian markets according to the applicable U.S. and Canadian standards.
Model #
Classification
Element Configuration
Available Wattage
Adjustable
Mounting
Drawing
305
Screw Plug Immersion Heater
Vertical
500W
1100W
1500W
Yes
Threads
*.DWG
305MP
Screw Plug Immersion Heater
MP = Moisture Resistant
Vertical
500W
1100W
1500W
Yes
Threads
*.DWG
306
Over Side Immersion Heater
Vertical
500W
1100W
1500W
Yes
Over the side
*.DWG
324
Over Side Immersion Heater
Vertical w/ Circular Base
500W

Yes
Over the side
*.DWG
335
Over Side Immersion Heater
Vertical w/ Horizontal Base
500W

Yes
Over the side
*.DWG
560
Custom Immersion Heater
Moisture Resitant Enclosure
Vertical
1100W (5.5"(in) element)
1500W (7"(in) element)
Yes
Threads
N/A