Snap Disc & Snap Stack Commercial Thermostats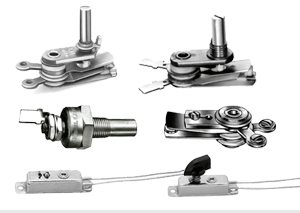 Ulanet Industrial & Commercial Thermostats utilize bimetallic switches and quality construction to control thermal properties within applications. You will find a variety of thermostats on this page; some conduction sensing, some convection sensing.
Max Rating: 1500 Watts, 115-230VAC

Factory Calibration Range: 35°F - 650°F

Industrial & Commercial Thermostats
Industrial & Commercial thermostats switch on or off an electrical circuit based on the temperature it senses. A calibration process is performed during the manufacturing process which sets the thermostat to the requested temperature. These thermostats utilize a bimetallic plate that produces a deflection that connects and disconnects an electrical circuit controlling thermal properties within your system.
These units are utilized heavily within the appliance industry to control system temperature. There are a wide range of thermostats available that feature different mounting, adjusting, and energy capacity options. Please spend some time below educating yourself on the differences; if you have any questions please contact us and we will be more than happy to assist you.

Requesting a quote
These thermostats are made in several adjustable ranges for maximum sensitivity.

State approximate working temperature.
Reference a specified model number below.
Specify the application use.
Specify the working environment if possible.
Specify mounting requirements
FEATURES
Rapid heat transfer to the bimetallic switch
Flexible mounting options
Permits insertion into tight fitting holes for rapid heat response
Strain relief protection lead wires
650°F temperature operation on some unit
Temperature adjustments
Quality materials
Rated Individually: Highest rating 1500W 115-230VAC
---
FM cartridge thermostats
We offer a range of industrial/commercial series thermostats that all function under the same scientific principals however each thermostat has unique functions and features. Please use the list below to better educate yourself on the options you have available to you.
Note: If you require additional information please contact us. Click Here To Contact
Model #
Classification
Temp Ranges
Electrical Rating
Adjustable Shaft
Normally Closed
Drawing
SR-SK-119
Industrial Open Air Thermostat
Up to 240°F Max
Up to 500°F Max
Up to 650°F Max
1500W 115-230 VAC
Yes
Yes
*.DWG
SR-SK-173
Industrial Open Air Thermostat
Up to 240°F Max
Up to 500°F Max
Up to 650°F Max
1500W 115-230 VAC
No
Yes
N/A
SR-SK-191
Industrial Open Air Thermostat
Up to 500°F Max
1500W 115-230 VAC
Yes
Yes
*.DWG
DM-122
Industrial Open Air Thermostat
Up to 300°F Max
Up to 650°F Max
1000W 115-230 VAC
No
Yes
*.DWG
HS-202
HS-207
Industrial Open Air Thermostat
Up to 240°F Max
Up to 500°F Max
Up to 650°F Max
1500W 115-230 VAC
NO (HS-202)
Yes (HS-207)
Yes
*.DWG
#401
Industrial Open Air Thermostat
Up to 300°F Max

100W 24VDC or AC
No
Yes
*.DWG