Cartridge & Screw Plug thermostats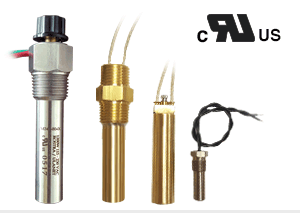 Ulanet FM Thermostats are the only metal cartridge thermostats that cant withstand mechanical clamping or pinching of the cartridge without affecting the set calibration. These units are sensitive, rugged, and perform clean make and break action.
Rating: 1200 Watts, 115-230VAC
Patented: #2,735,912, #2,770,699
Factory Calibration Range: 35°F - 302°F
Options: Normally Open, or Normally Closed
Lead Length Range: 4 inches to 48 inches
FM Cartridge thermostats
FM cartridge thermostats switch on or off an electrical circuit based on the temperature it senses. A calibration process is performed during the manufacturing process which sets the thermostat to the requested temperature. These FM Cartridge Thermostats are the only metal cartridge thermostat that can withstand mechanical clamping or pinching of the cartridge without effecting the set calibration.
In the FM cartridge thermostat a thermo sensitive bimetallic element, in optimum thermal contact with the cartridge housing, actuates a pair of switch members to open and close its' contacts in response to temperature change. The bi-metal is electrically insulated from the switch blades. Thermal strain relief is incorporated to prevent calibration drift.

Requesting a quote
The FM series thermostats are made in several adjustable ranges for maximum sensitivity.

State approximate working temperature.
Factory calibration is available from 35°F to 450°F.
State contact arrangement.
Normally closed--to open on temperature rise.
Normally open--to close on temperature rise.
Standard lead length of 4 inches. Available with lead lengths up to 48 inches.
FEATURES
Cartridge shell has no impact for the make and break of contacts.
Flexible mounting options
Permits insertion into tight fitting holes for rapid heat response
Strain relief protection lead wires
450°F maximum temperature operation
Temperature adjustments
Brass cartridge
Rated: 1200W, 115-230VAC
UL/CUL Component recognized
---
FM cartridge thermostats
We offer a range of FM series cartridge thermostats that all function through the same scientific principals however each thermostat has unique functions and features. Please use the list below to better educate yourself on the options you have available to you.
Note: If you require additional information please contact us. Click Here To Contact
Model #
Classification
Diameter
Cartridge Length
Adjustable
Mounting
Drawing
FM-132
Cartridge Thermostat
.624 in (15.84mm)
2.25 in (57.15 mm)
Yes
*Insert
*Pinch
*Set screw
N/A
FM-156
Cartridge Thermostat
.875 in (22.23mm)
2 in (50.8 mm)
Yes
*1/2" NPT Threads
N/A
FM-165
Cartridge Thermostat
.624 in (15.84mm)
2.0625 (52.39 mm)
Yes
* 8-32 mounting holes on a 1.25in diameter disc

N/A
FM-171
Cartridge Thermostat
.624 in (15.84mm)
2 in (50.8 mm)
Optional 1" (25.4 mm)
Yes
* 1/2" NPT Threads
N/A
FM-247
Cartridge Thermostat
.624 in (15.84mm)
1.125 in (28.58 mm)
Optional 1" (25.4 mm)
Yes
* 1/2" NPT Threads
N/A
FM-344
Cartridge Thermostat
.624 in (15.84mm)
2.25 in (57.15 mm)
Yes
* 1/2" NPT Threads
N/A