GTL, standard, Moisture Proof, & Custom Bulb And Capillary Thermostats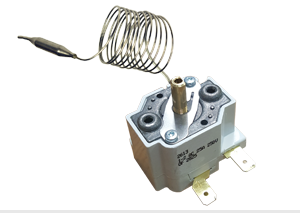 Standard, GTL, Custom Bulb & Capillary Thermostats
Standard, custom, moisture proof, & GTL Bulb & Capillary thermostats regulate temperature by switching on/off electrical circuits through remotly sensing thermal properties in your system.
Rating up to:
25A 240V.A.C.
Materials: SST'L & Copper

Control Range Spectrum: 70°F - 550°F

General Capillary Thermostat Capabilities
Control Ranges: Available from 70°F - 550°F (21.1°C to +343.3°C)
Temperature Differential: Nominally 5% of temperature range

Capillary Lengths: 7.784" to 78.740" (200 to 2000 mm) in copper or stainless steel
Bulb Diameters: Copper: 4,5,6,8 mm Stainless Steel: 3,5,6 mm
Rating: (depending on specific thermostat; see below)
25A 250V.A.C.
20A 250V.A.C.

Considerations for selecting the correct thermostat
These thermostats are made in several adjustable ranges for maximum sensitivity.
You should know the following to properly select the correct product for your application:

*Approximate working temperature
*Distance or length needed to reach your heat source
*Working environment conditions

Buying Online
You can purchase every thermostat listed in the table below or request a quote for a custom thermostat. Various shipping options are avilable; orders are typically processed and shipped within 2 business days; custom orders based upon requested parameters can take longer.

BuLK ORDERS
If you require a large quantity of our products please contact us directly using the "Request Large Quantity Quote" button below and we will get back to you within 1 business day. You may be entiltled to a discount based upon your required quantity.
GTLU , Moisture Proof & Custom Capillary Thermostats
We offer a range of capillary thermostats to suit your thermal control needs, such as the GTL / GTLU thermostats, A5022 thermostats, moisture proof thermostats, and custom bulb and capillary thermostats. You can purchase them directly from our online store or request a bulk quantity quote.
Note: If you require additional information please contact us. Click Here To Contact
Model #
#Classification
Temp Range
Rating
Bulb Dimensions
Capillary Lengths
Normally Open or N.C
Image
Purchase Online
GTLU0001
Liquid Filled
Capillary Thermostat (SST'L)
50°F - 248°F

240VAC 20A
Dia: .236" in
Length: 3.346" in
20.078" inches
Normally Closed
*.DWG
Buy Now - 49.99 USD
GTLU0003
Liquid Filled
Capillary Thermostat (Copper)
32°F - 572°F

240VAC 20A
Dia: .118" in
Length: 4.250" in
39.685" inches
Normally Closed
*.DWG
Buy Now - 49.99 USD
A5022-150
Liquid Filled
Capillary Thermostat
70°F - 150°F

240V 10A
125V 15A
Dia: .250" in
Length: 1.830" in
39.370" inches
Normally Closed
*.DWG
Buy Now - 39.99 USD
A5022-250
Moisture Proof Capillary Thermostat
70°F - 250°F

240V 10A
125V 15A
Dia: .250" in
Length: 1.830" in
39.370" inches
Normally Closed
*.DWG
Buy Now - 39.99 USD
A5022-350
Liquid Filled
Capillary Thermostat
70°F - 350°F

240V 10A
125V 15A
Dia: .250" in
Length: 1.830" in
39.370" inches
Normally Closed
*.DWG
Buy Now - 39.99 USD
A5022-450
Liquid Filled
Capillary Thermostat
70°F - 450°F

240V 10A
125V 15A
Dia: .250" in
Length: 1.830" in
39.370" inches
Normally Closed
*.DWG
Buy Now - 39.99 USD
A5022-550
Liquid Filled
Capillary Thermostat
70°F - 550°F

240V 10A
125V 15A
Dia: .250" in
Length: 1.830" in
39.370" inches
Normally Closed
*.DWG
Buy Now - 39.99 USD
BC-300-MP
Moisture Proof
Capillary Thermostat
70°F - 572°F

240V 10A
125V 15A
Dia: .250" in
Length: 1.830" in
39.370" inches
Normally Closed
*.DWG
Buy Now - 59.99 USD
Custom BC
Custom
Bulb & Capillary Thermostat
Calibrated up to 650°F

240V 10A
125V 15A
Dia: .250" in
Length: 1.830" in
39.370" inches
Normally Closed
N/A
Request Quote