Heating elements, immersion heaters, & Controls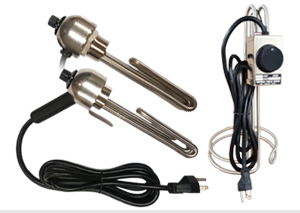 Heating Element Solutions
Heating elements, plug-in immersion heaters, screw plug immersion heaters, and 55 gallong drum tank heaters.
Rating:
115 or 230V.A.C. (500w up to 20Kw)

Additional Info:
Elements, Screw Plug & Over-the-Side Immersion, Drum heaters. Heaters with or without thermostatic control

Heating solutions by Rostra
You can heat and control your system with a variety of methods using quality products designed, and manufactured by Rostra through our Ulanet™ and BilbeeControls™ product line. These products are made in Bristol CT where quality control is our highest priority. Customer's choose Ulanet™ and BilbeeControls™ products for reliability, and durability.
Screw Plug Immersion Heaters
← click for info.
Heaters designed with male NPT threads for threaded installation into tanks and other indstrial equipment.
Custom configurations and standard off the shelf options are available. Wattage ratings vary with each product and span a range of 500Watts, up to 20Kw. The screw plug units function on both 115VAC, and 230VAC systems.
"Over Side Immersion Heaters For Tanks / Drums
← click for info.
Hang your immersion heater over the side of your fixture, or tank for easy heating, and portability. These heaters plug into an AC outlet and work on 115VAC, or 230VAC. Wattage differs by product and starts at 500Watts, and go up to 1500Watts.
Heating Elements, Standard or Custom Shape & Size
← click for info.
Our standard heating elements are used in various heating applications and come in a variety of pre-existing designs, as well as custom sizes and configurations. These units come with terminal ends to adapt electriclly with your system through 115VAC, or 230VAC.
Thermostatic Heater Controls
← click for info.
Controlling your heater is critical; some heater products do not come with a control; if you are in need of an accurate thermostat to pair with your existing heater or your new heater products utilize our Ulanet™ brand thermostats.
---

---
Heating Elements & Immersion Heater Product Search Database
Instructions:

1. Use the drop down filters below to refine the results
2. Click "More Info" for additional details, & to purchase online.
Click on a column label to resort the table.
Fetching data... Thank you for waiting.
Searches with a large number of results may take longer to load.
---
Thermostatic Heater Controls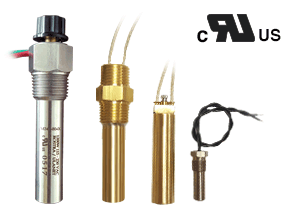 Our Ulanet™ brand cartridge thermostats switch on or off an electrical circuit based on the temperature it senses. A calibration process is performed during the manufacturing process which sets the thermostat to the requested temperature. These cartridge thermostats are the only metal cartridge thermostat that can withstand mechanical clamping or pinching of the cartridge without effecting the set calibration.
In the cartridge thermostat itself sits a thermo sensitive bimetallic element, in optimum thermal contact with the cartridge housing heat actuates a pair of switch members to open and close its contacts in response to temperature changes. The bi-metal is electrically insulated from the switch blades. Thermal strain relief is incorporated to prevent calibration drift.
Factory calibration from 35°F up to 450°F, Rated at 1200W, 115-230VAC, Normally Closed, and Normally Open available. Click for even more info.