Knife Box Sterilizer Immersion Heaters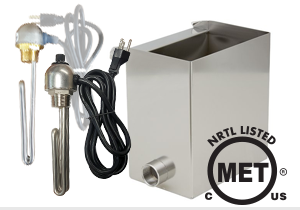 Knife Box Sterilizer Immersion Heaters
are designed and built to provide a quality solution when dealing with replacing your existing immersion heater. Design and product listed and certified by MET Labs.


Wattage Rating: (Custom Available)
500,1100, or 1500 Watts
115-230VAC

Immersion Heaters For Knife Box Sterilizers
Replacement heaters for knife box sterilizers, standard size; 1" NPT male threads assemble into your knife box without adapters, or any special mounting methods. Our heaters simply thread into your existing heater port on your knife box sterilizer.
FEATURES
Available in multiple wattage settings: 500W, 1100W, and 1500W
With or without thermostatic controls
Standard 6" three wire cord set
1" NPT Male Threads
MET Listed Product
Come customization available Contact Us With Requests
Customer Applications (But not limited to)
Knife Box Sterilization
Kitchen Sterilization
Brewing / Distilling
Commercial Kitchens
Laboratory Sterilization
Process heating
---
Additional Immersion Heaters
We offer a full range of immersion heaters and heating elements that all function under the same scientific principals however each heater has unique functions and features. Please use the list below to better educate yourself on the options you have available to you. Note: If you require additional information please contact us. Click Here To Contact
Model #
Classification
Element Configuration
Available Wattage
Adjustable
Mounting
Buy Now
305
Screw Plug Immersion Heater
Vertical
500W
1100W
1500W
Yes
1" NPT Threads
Purchase Now
305MP
Screw Plug Immersion Heater
MP = Moisture Resistant
Vertical
500W
1100W
1500W
Yes
1" NPT Threads
Purchase Now
306
Over Side Immersion Heater
Vertical
500W
1100W
1500W
Yes
Over the side
Purchase Now
324
Over Side Immersion Heater
Vertical w/ Circular Base
500W

Yes
Over the side
Purchase Now
335
Over Side Immersion Heater
Vertical w/ Horizontal Base
500W

Yes
Over the side
Purchase Now
560
Screw Plug Immersion Heater

Vertical
500 W (5.5" (in) element)
1100W (5.5"(in) element)
1500W (7"(in) element)
No
1" NPT Threads
Purchase Now
WP560
Waterproof Immersion Heater
Vertical
500 W (5.5" (in) element)
1100W (5.5"(in) element)
1500W (7"(in) element)

No
1" NPT Threads
Purchase Now